Leprechaun Kids
5 - 12 years
Welcome to the enchanting world of Irish dance, where rhythm and grace come together in a mesmerizing display of talent. Irish dance is not just a dance form; it's a celebration of culture, history, and tradition. From the lively jigs to the intricate footwork, every step tells a story and transports you to a world filled with magic and excitement. Whether you're a beginner or an experienced dancer, Irish dance offers a unique and exhilarating experience that will captivate your heart and ignite your passion. Join us on this journey as we unlock the secrets of Irish dance and discover the joy and beauty it brings to our lives.
At Kane Irish Dance, we believe that every child has the potential to shine. Our experienced instructors are dedicated to nurturing and developing your child's talent in a supportive and encouraging environment. Through our carefully crafted curriculum, your child will not only learn the art of Irish dance but also gain valuable life skills such as discipline, teamwork, and perseverance. Our classes are designed for all skill levels, from beginners to advanced dancers, ensuring that every child can thrive and grow at their own pace. With our expert guidance and personalized attention, your child will unlock their full potential and discover the joy and confidence that comes with mastering Irish dance. Join us at Kane Irish Dance and watch your child's dreams take flight!
Don't worry you don't have to compete. We run an amazing grades and awards system that is internationally recognised for children's Irish Dance.
Basics
Are key to learning Irish Dance.
Positive Rewards
We operate using a positive rewards system which our pupils love.
What Will Your
Child Learn Balance:
This skill is crucial to develop at an early age. Your child is beginning to participate in many physical activities that are challenging, like riding a two-wheel bicycle.
Memory:
Developing a good memory is exercise for your child's brain. Our drills and dances are constantly helping your child think and make smart decisions independently. Starting such exercise early in life will actively help in the development of a better and stronger brain. Discipline:
Our instructors use specialist age appropriate drills to help children learn quickly that being disciplined is fun and rewarding. Your child will take pride in doing the right thing. They will also follow directions better.
Fitness:
It is important for children to understand the importance of being healthy and physically fit. Our dance program will help your child burn off any excess energy and set them up for a healthy lifestyle. Co-ordination:
Many children struggle with coordination. Our specialist programs help even those on the spectrum develop better hand eye coordination. This is a key life skill for every child to have.
Saturday 
12:30pm – 13:15pm
Book a Free
Trial Lesson
Today
Our values are important to us!
1 We inspire people to live a healthy active life
2 We are kind and empower each other
3 We become resilient through encouraging each other
4 We are inclusive to all 
5 We do what we say
6 We are proud to continually grow as a community at Kane Irish Dance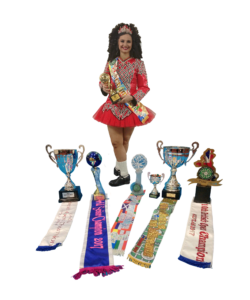 "As a World Champion competitive Irish Dancer and professional dancer I stand strong by the above values. They are what made me who I am...Now it is time to see the legacy developed in the pupils at Kane Irish Dance."
Parents: Not sure if it is for your child? Fill in this form to recieve a week FREE VIP trial pass. We'd love to hear from you.