There is one thing that unites us all – Inclusivity
In a world that often focuses on our differences, there is one thing that unites us all – the power of inclusivity. And no one understands this better than Kane Irish Dance. With a mission to welcome all and celebrate diversity and abilities, Kane Irish Dance has become a beacon of hope and inspiration for dancers around the world. Through their inclusive approach, they have created a community where everyone feels valued and supported. Whether you're a beginner or an experienced dancer, whether you have a disability or not, Kane Irish Dance opens its doors to everyone, breaking down barriers and creating a space where magic happens. Join us as we dive into the world of Kane Irish Dance and discover the transformative power of inclusivity.
In the world of Kane Irish Dance, diversity is not just accepted, it is celebrated. They believe that every individual brings a unique perspective and talent to the dance floor, regardless of their background or abilities. Whether you come from a different culture, have a physical disability, or possess a wide range of abilities, Kane Irish Dance welcomes you with open arms. Their inclusive environment fosters a sense of belonging and encourages dancers to embrace their differences. By embracing diversity, Kane Irish Dance creates a vibrant tapestry of movement and expression, where each dancer's story adds to the richness of the performance. Together, they prove that when we celebrate our differences, we create something truly extraordinary.
Get started today!
Drop us a line below
Pre-School Dance
Foundation Dance Programme

Adult Irish Dance
Our values are important to us!
1 We inspire people to live a healthy active life
2 We are kind and empower each other
3 We become resilient through encouraging each other
4 We are inclusive to all 
5 We do what we say
6 We are proud to continually grow as a community at Kane Irish Dance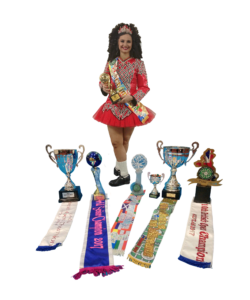 "As a World Champion competitive Irish Dancer and professional dancer I stand strong by the above values. They are what made me who I am...Now it is time to see the legacy developed in the pupils at Kane Irish Dance."
Rebecca Kane 
Is passionate about dance and helping others learn traditional Irish Dance.
I love this school and it's amazing teacher! It isn't just about competitive dance. Rebecca looks after all children and gives them all a chance to learn about our beautiful Irish Heritage. 5 stars from me 🌟 🤩

Sheila Mcarren


My daughter loves dancing. Her confidence has grown so much since starting. 💕 would highly reccomend.

Sam Smith


Aoife Morgan


Fantastic dance teacher our daughter has been going 5 months and has learned so much we highly recommend 😊

Sinead Geaney


My granddaughter has started lessons here. The teacher is amazing and really makes my grand daughter feel at ease and welcome. She was shy before she started but has now built confidence. I can't wait to see her perform at the Town Hall.

Jason Phelps


Lovely place to learn. Inclusive, friendly and the dance teacher is supportive patient, kind and teaches at your pace and level. Would highly recommend

Siobhan Corscadden


Great school. Felt well looked after by all members.

John Swindon

Parents: Not sure if it is for your child? Fill in this form to recieve a week FREE VIP trial pass. We'd love to hear from you.