Are you ready to unleash your inner Celt and embark on an enchanting journey? Discover the joy of Irish dance for adults with Kane Irish Dance. Whether you're a beginner or have previous dance experience, our classes are designed to cater to all skill levels. Experience the rich culture, vibrant music, and energetic movements that make Irish dance so unique. Join our community of passionate dancers and let the rhythm of the music ignite your spirit. Get ready to step, leap, and twirl your way into a world of excitement and self-expression. It's time to embrace the beauty and grace of Irish dance. Are you ready to take the first step? Let's dive in!
Get ready to experience the thrill of Kane Irish Dance. Our dynamic and high-energy performances will leave you breathless and wanting more. From the moment our dancers take the stage, you'll be captivated by their precision, agility, and passion. Feel the rhythm pulsating through your veins as they seamlessly blend traditional Irish dance with contemporary flair. With every step, leap, and turn, they tell a story that transcends language and connects with the deepest parts of your soul. Whether it's a solo performance or a synchronized group routine, our dancers bring the magic of Irish dance to life. Prepare to be amazed as they showcase their incredible footwork, intricate choreography, and infectious enthusiasm. Join us on this exhilarating journey and let the power of Irish dance ignite your spirit. Are you ready to feel the thrill? Let's dive in!
Displays
We love performing in gala's and events.
Studio
We love teaching lessons in our equipped studio.
Pupils join because
They Want

Fitness
With its focus on plyometric techniques and cardio, when undertaken as exercise, the benefits of Irish Dance for fitness are indisputable.
Weight Loss
Weight loss is a certainty if you are putting maximum effort into work outs along with a balanced healthy diet. One class of Irish Dance can burn over 1000 calories.

Body Tone:
Offering a total body toning workout, our Irish Dance Programme engages all of the body's muscles. Regular participation will strengthen your core, chest, shoulders, and back, define your abs, and give you a smaller waist, and toned arms, legs, and buttocks.
The first areas that will become stronger and more toned are the abs and the core and legs. The reason for this is that to stay balanced during workouts; these muscles will be continuously engaged.
Learn a Skill
Our pupils benefit from learning a traditional art form which is very technical. 


Have Fun
Smiling is part of dancing! Our lessons are fun! Having fun actually helps you to learn. All our lessons are in a family friendly atmosphere. The biggest benefit is that you will become part of a team of likeminded individuals on the same journey!
YOU CAN REST ASSURED OUR IRISH DANCE CLASSES ARE THE ULTIMATE DE-STRESS.
If you want to see if it is for you then we highly recommend you book a trial lesson.
​
Thursdays
8:15pm – 9:15pm
Saturdays
1:30pm – 2:30pm
Our values are important to us!
1 We inspire people to live a healthy active life
2 We are kind and empower each other
3 We become resilient through encouraging each other
4 We are inclusive to all 
5 We do what we say
6 We are proud to continually grow as a community at Kane Irish Dance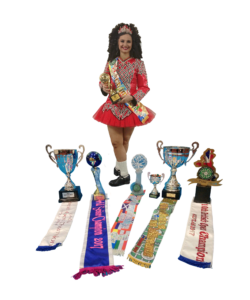 "As a World Champion competitive Irish Dancer and professional dancer I stand strong by the above values. They are what made me who I am...Now it is time to see the legacy developed in the pupils at Kane Irish Dance."
Parents: Not sure if it is for your child? Fill in this form to recieve a week FREE VIP trial pass. We'd love to hear from you.